Description
Edit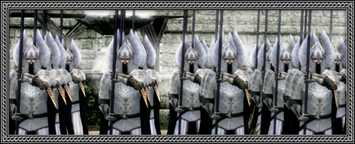 Gondorian troops who guard the Fountain and the White Tree. They are not allowed to talk when on duty and they wear silk masks to remind visitors and themselves of the absolute silence. They are finest of Gondor picked from the best of best and led by the Steward's son.
This class of troop requires Citadel Guard.
The Fountain Guard is a Rank 5 type of troop.